blog :: thoughtcrime ink
Pre-order our book "What Was the USSR?" for $14.50 before it drops on August 15, and get a free thoughtcrime ink pamphlet that's $5 or under. Just add the book to your cart as you would an in-stock book.
In What Was the USSR?, the Aufheben collective explores the inadequacies of the theory of the USSR as a degenerated workers' state and the various versions of the theory that the USSR was a form of state capitalism.
After you've ordered the book, visit the books page to choose your free pamphlet or zine. (Choose a pamphlet $5 or under for every copy of What Was the USSR? you order.) Just email service@thoughtcrimeink.com with your choice and we'll mail them both out to you when What Was the USSR is ready.
posted Wednesday, June 26, 2013 by Rob Butz | add a comment
For those who haven't heard, the filmmakers Anarchism behind Anarchism: A Documentary have completed their primary filming and interviewing of anarchists across the globe. While they didn't raise all the funds they needed, and thus couldn't make it to France and Germany, we wanted to pass on that your shirt and book purchases from thoughtcrime ink allowed them to interview anarchists elsewhere across the world.
posted Thursday, May 19, 2011 by Rob Butz | add a comment
We've just added two new booklets to our Anarchist 101 excerpt series: distilled excerpts of longer classic works of anarchist social and political thought. Just back from the press in stylish new editions, these are both excellent works that are clear, cogently written perspectives on some of the most common questions put to anarchists about self-managed society. "Profit and Exploitation," excerpted from Peter Kropotkin's The Conquest of Bread, discusses the unbreakable connection between profit and theft. "What About Human Nature?," an incredibly salient discussion from the Anarchist FAQ, critiques the so-called need for humans to be "perfect" before an anarchist society is possible.
posted Sunday, February 28, 2010 by Rob Butz | add a comment
We're a bit too late posting this to give you advance notice of Rae Spoon's and Geoff Berner's show at The Artery in Edmo tonight (02/06/2009), but we wanted to announce our new thoughtcrime ink music section, featuring our organizing work on the production of the vinyl version of Rae Spoon's fourth full-length LP, superioryouareinferior. A bending away from Rae Spoon's country ouevre into the territory of majestic, weirder, minimalist folk, this album is really amazing— which you should hear even if you don't consider yourself a fan of folk music.
As we've just launched the section, we don't have music previews up, nor are digital downloads for sale yet, but these will be forthcoming shortly. A digital download voucher is included with the Rae Spoon album.
In other news, after having gotten our shirt press off the ground at last, after much difficulty with electrical equipment, an old building, and a difficult landlord, we'll be rolling off new shirts soon, submitted by the winners of the thoughtcrime ink t-shirt design contest. In the tradition of our interests in meeting the public need for "Anarchism 101"-style books, we also have a highly recommended, forthcoming book by Wayne Price which will be available for sale on the site shortly.
posted Saturday, February 06, 2010 by Rob Butz | add a comment
Almost-by-accident, we met the Wide Open Exposure folks in the middle of their film exhibition tour, so we're posting this really late. But if you live in Canada you should try to attend the screening of their first film, Myths for Profit: Canada's Role in Industries of War and Peace. It's a really excellent 101-level primer on hard-to-collate information on both the involvement of Canadian armament corporations, how Canada's "foreign aid" really works, and the selling of the Canadian public on the role of "peacekeeping."
It's all financed out-of-pocket and they could use your support with the purchase of a DVD, or your body at a screening if you're in one of the remaining cities on their tour. At the bottom of this page is their schedule.
posted Saturday, April 11, 2009 by Rob Butz | add a comment
Organize your workplace!! The Industrial Workers of the World is once again holding its annual organizer training workshop on the weekend of January 23rd to the 25th. The workshop includes an overview of how to organise and take action on the job as well as how to use the law to back yourself up. The workshop is open to IWW members and non members but we would appreciate it if you RSVP in advance as space is limited.
Date/Time: 10am-4pm, January 24-25th
Event Location: UofA Business Building (11211 Saskatchewan Drive)
More info: Nick Dreidger | .(JavaScript must be enabled to view this email address)
Website: http://edmonton.iww.ca
posted Friday, January 16, 2009 by Devon | add a comment
Come out one last time to say farewell to and enjoy the musical genius of Carly and Jessica of Gretna Green!
Date: Thursday, January 22, 2009
Time: 5:00 pm
Event Location: Remedy Cafe (8631 109th st)
More info: .(JavaScript must be enabled to view this email address) Website: http://www.myspace.com/gretnagreensound
posted Sunday, January 11, 2009 by Devon | add a comment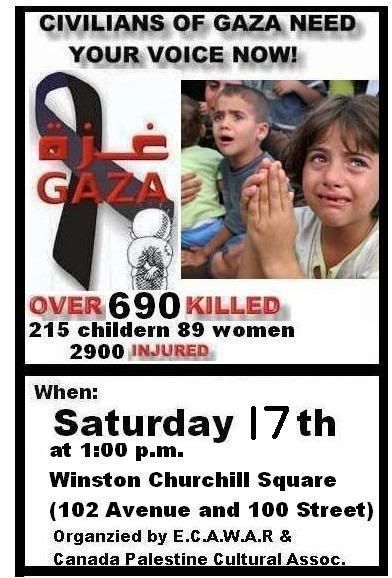 Join the 'Edmonton Coalition Against War and Racism' and gather in solidarity with the besieged people of Palestine. Show the Canadian and Israeli Government that you do not support the atrocious Israeli war crimes that have resulted in the deaths of hundreds of innocent men, women, and children, and the injury/displacement of thousands.
Date: Saturday, January 17, 2009
Time: 12:00 pm
Event Location: Churchill Square (100th street and 102nd ave)
More info: .(JavaScript must be enabled to view this email address)
posted Friday, January 09, 2009 by Devon | add a comment
Still steadily plunking away on improving the
design scoring pages
, everyone. You should put yourself on the mailing list above so you can be notified when we re-launch them! We came across this mesmerizing tool called
Wordle
today and killed half an hour with it. It assembles word-collages out of any block of text. We dropped classic texts in by Pyotr Kropotkin, Emma Goldman, and Mikhail Bakunin, and these were the results (be sure to click "read more" to see the others:)
posted Thursday, December 04, 2008 by Rob Butz | add a comment
Hey everyone. We just got really, really busy with the
Edmonton Anarchist Bookfair
, school, and publishing projects this month, and haven't had time to follow up with the
thoughtcrime ink design co-omperatition.
You might've noticed that we don't have our "design ranking" pages up yet — we are pushing to finish these in the next seven days. We'll be sending out announcements all over the place when the gallery of entries and the ranking pages are up. Thanks for your patience with us! In the meantime
please keep submitting designs,
as we have extended the co-omperatition deadline till
Dec. 5
(perfect for deciding if your US-election-related t-shirt desgn is still going to be relevant)!
posted Thursday, October 23, 2008 by Rob Butz | add a comment
"Shift in Progress: A Not-So-Comic Book" is available here.
Shift in Progress: A Not-So-Comic Book
is a graphic story anthology centered around the theme of young people and fighting back against oppressive aspects of the workplace. To our knowledge, it's the first comic book produced by the Edmonton "General Membership Branch" (GMB) of the
Industrial Workers of the World (IWW)
. It's finally being launched November 20, and you're all invited to celebrate its release with us! It will soon be available on thoughtcrime ink for sale in the new
books section
. Interviews with seven young workers and the real-life experiences of the artists themselves provided the inspiration of the five stories in
Shift in Progress.
In
The Illusion of Time
, Eva sacrifices everything to her job, friends, relationship at the expense of her health. In
A Black Sheep Tale,
Chan has a mohawk, an anarchist t-shirt, and an attitude. He works hard but unhappily in a garment factory and has disturbing dreams. Can he grow into his t-shirt?
Rights of Passage
tells the tale of April, an avid skateboarder who has to work at a bar where the lewd customers are never made to feel uncomfortable for their sexual assaults on the female staff. In
After Breakfast and Just Before Bed
, Dhan is gay, East Indian, and pathologically driven to over-perform, micromanage, and burn out. For what and whom is he driving himself? Finally,
Grind
tells the tale of Julie, who comes to work in the oil patch with boyfriend and baby. One accident later, she is the sole breadwinner of the family and sets off to work at the local caffeine dealer. What next? Shift in Progress' intro is written by Eugene Plawiuk, and contains organizing information sections compiled by Nick Dreidger and Steve Nixon.
Date: Thursday, November 20, 2008
Time: 5:30 pm
Event Location: Happy Harbour Comics (10112 - 124 Street), Edmonton
Event Admission: free!
More info: .(JavaScript must be enabled to view this email address)
So the last time we mentioned raising funds for grassroots projects in Canada, via the shirts you were buying, we still had our vision of raising $5000 for the Edmonton Anarchist Bookfair. Raising $5000 didn't
quite
happen, but at least we dreamt big! Partway through the year, we did ask ourselves if a single Anarchist Bookfair truly warranted getting $5000 when surely there were other people needing assistance in getting bookfairs started. We ended up donating some to other bookfairs in Canada. Your money you gave us for shirts broke down like this: Victoria Anarchist Bookfair - $150 donated Calgary Anarchist Bookfair - $200 donated Edmonton Anarchist Bookfair - $200 donated Saskatoon Anarchist Bookfair - $200 donated Winnipeg Anarchist Bookfair - $200 donated Hamilton Anarchist Bookfair - $200 donated Because Edmonton's bookfair has aspired to pay travel fees for everyone, we also donated additional funds ($400) for travel fees for Ward Churchill, and also donated buttons and lit to sell at the door (about $400 worth) to offset costs. This year we also donated buttons and supplies to Edmonton Anarchist Black Cross and were able to afford a lit donation to the Calgary Anarchist Black Cross. Finally, thoughtcrime ink gave a small amount to the IWW (Industrial Workers of the World) Solidarity Fund, roughly $200, and helped out an anarchist collective in Oaxaca, Mexico, for $500. More updates on this funding later. Even more exciting news is that we are able to launch our book imprint,
thoughtcrime ink books
, and our "
Infoshop in a Box
" initiative. This provides a plentiful selection of anarchist and radical literature (radical to some, common sense to us), along with optional shirts and buttons, at cost to people looking to table lit at events. If you are interested in Infoshop in a Box, just mail
.(JavaScript must be enabled to view this email address)
about it.
posted Friday, August 15, 2008 by Rob Butz | add a comment
ThoughtCrime Ink, a volunteer-run, anti-capitalist "apparel-based community maker" which raises funds for mid-size and new Anarchist Bookfairs across Canada, is holding a t-shirt design "competition/cooperation". We're selecting up to four winning designs, and giving out 100 dollars (CDN) to their creators, plus one dollar for each shirt sold. All remaining profits from the t-shirts go to support Anarchist Bookfairs and similar grassroots community projects across Canada - we are a volunteer collective and we don't take a 'cut' in any way. More details can be found here:
http://www.thoughtcrimeink.com/design
We are hoping that you might consider entering the t-shirt design "co-omperatition," or share this weblog entry with an artist interested in political design, art, craft etc. If you are not a designer but have good ideas, consider teaming up with an artist to produce a kick-ass t-shirt — collective submissions are OK! If you like, feel free to submit prototypes of your design to our "critiques" section and get constructive feedback before entering them. You may also submit as many entries as you like. Although we in the thoughtcrime ink collective identify as anarchists, not everything we like screams "anarchy!" So, feel free to make the politics of your design as subtle or "in-your-face" as you want. Express any style, feeling or mood in relation to your subject matter. The criticial requirement is that designs you submit must be original (ie. yours - if you just want "public domain" graphics (from the Spunk archive, for example) printed up on a shirt, there are easier ways of going about that.) We are looking to stoke new expressions of visual resistance. Keep in mind that there are printing limitations for this contest (which are described on the design page linked above). Also, this time around, we're not doing "slogan-only" shirts, though text is certainly OK to incorporate into your designs. You should also design with "placement" on the shirt in mind, and t-shirt colour. We print on a mix of Justshirts (fair trade) and American Apparel ("sweatshop-free") stock, so you can print on any of the colours here:
http://store.americanapparel.net/2001.html
We're hoping to take thoughtcrime ink to the 'next level' by making the design cooperation/competition "live." Logged-in visitors to thoughtcrimeink.com get to score the designs and leave constructive comments for works under consideration. The scoring really helps us determine which shirts should be printed. We're hoping that everyone who reads this will create an account on thoughtcrimeink.com in the next few weeks and score some designs. We'll send another callout when the scoring wall is up. We're aware that technology is a barrier for many artists, however, so if you're a brilliant woodcut artist who wants to enter the design cooperation/competition, and you don't know you way around computers, just let us know at
design@thoughtcrimeink.com
and we'll do our best to help your design get entered. Questions? Just email
design@thoughtcrimeink.com
, or visit
http://www.thoughtcrimeink.com/design
to read more info, download the designer's kit and get started... Solidarity, Rob for thoughtcrime ink
http://www.thoughtcrimeink.com
http://www.facebook.com/pages/thoughtcrime-ink/21316665733
posted Monday, August 11, 2008 by Rob Butz | add a comment
We launched
the books section
of thoughtcrime ink today. Just
two
four books for now! The first is a sweet edition made of a section of Alexander Berkman's "What is Anarchist Communism" we titled
Reformers, Socialists and Communists: An Anarchist Critique
. We have the first English translation of Makhno's
Russian Revolution memoirs
, courtesy of Malcolm Archibald, and Archibald's brief biography of
Maria Nikiforova, the "Anarchist Joan of Arc."
Finally, we have online the zine-sized, beautiful, perfect-bound edition of Kropotkin's essay we've brought to several bookfairs,
Anarchist Morality
. These titles will be followed by many more in the coming weeks.
Onward!
posted Friday, August 01, 2008 by Rob Butz | add a comment
Our friend Dawn Babs Davenport gave us the heads up on a thoughtful, must-read article by Mimi on
ThreadBared
(a weblog that critiques "the politics of fashion"). The article discusses a 'racialized' photo shoot in trendy fashion rag
Nylon
. The
Nylon
photo spread seems to represent an emerging way of being "edgy" in mainstream capitalist fashion that many are catching on to, of explicitly playing up racial inequality like you just couldn't care less. This may seem like nothing new (readers of
No Logo
and
Adbusters
might remember discussion of Diesel ads from the mid-90s). "Slumming it" always seems to be recurringly fashionable. But in the case of the Nylon shoot, the indifference is carried through to the likely drafting an unwilling model (in this case, a housekeeper) and being well aware (and not giving a shit) that the worker knows they have to do it or likely lose their job. ("Hey, we can do this because we're hipsters at Nylon and
you're
nothing.") While we at thoughtcrime ink ponder the implications of this for our own present and future "model photography" for our shirts (we definitely don't want our highlighting of this article to be taken as saying 'look at us, aren't we so perfect or immune to critique'),
here is the article on Threadbared
.
posted Thursday, July 31, 2008 by Rob Butz | add a comment